Naruto Hiden: Kai No Sho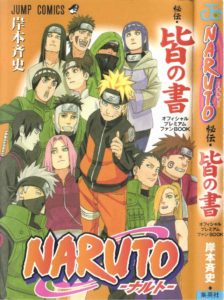 Naruto Hiden: Kai no Sho Ofisharu Puremiamu Fan Book ( NARUTO―ナルト―[秘伝·皆の書]オフィシャルプレミアムファンBOOK )
Lançamento: 2009
Para celebrar o aniversário de 10 anos da franquia Naruto, criada em 1999 por Masashi Kishimoto, diversos mangakás ligados a Shueisha se reuniram e montaram um presente especial tanto para Kishimoto quanto para os fãs. Tal como na comemoração do aniversário de 10 anos de One Piece, franquia criada em 1997 por Eichiro Oda, a franquia Naruto também foi homenageada com diversos desenhos feitos por outros mangakás.
Podemos ver os personagens de Naruto desenhados por nomes famosos e Akira Toriyama é um dos que colaboraram com esta homenagem a Kishimoto e sua criação. Estes desenhos foram então compilados e lançados no livro Naruto Hiden: Kai no Sho Ofisharu Puremiamu Fan Book.
Abaixo, segue a lista dos mangakás envolvidos:
Eiichiro Oda (One Piece);
Takeshi Obata (Bakuman, Death Note);
Osamu Kajisa (Tatoo Hearts);
Mizuki Kawashita (Ane Doki, Ichigo 100%);
Kouji Kiriyama (Ninku);
Kubo Tite (Bleach);
Kengo Kurando (★ Santa! ★);
Takeshi Konomi (Prince of Tennis);
Yoshio Sawai (Bobobo-bo Bo-bobo);
Hiroshi Shiibashi (Nurarihyon no Mago);
Kenta Shinohara (Sket Dance);
Mitsutoshi Shimabukuro (Toriko);
Shinya Suzuki (Mr. Fullswing);
Hideaki Sorachi (Gintama);
Hiroyuki Takei (Shaman King);
Ryuuhei Tamura (Beelzebub);
Yoshihiro Togashi (Yu Yu Hakusho, Hunter X Hunter);
Akira Toriyama (Dr. Slump, Dragon Ball);
Yoshiyuki Nishi (Muhyo to Rouji no Mahouritsu Soudan Jimusho, Bokke-san);
Tadatoshi Fujimaki (Kuroko no Baske);
Katsura Hoshino (D.Gray-Man);
Kousuke Masuda (Gag Manga Biyori);
Katsunori Matsui (Rocket de Tsukinukero!, NUMBER 10);
Yuusei Matsui (majin Tantei Nougami Neuro);
Naoya Matsumoto (Nekko Wappa!);
Yuusuke Murata (desenhista de Eyeshield 21);
Masanori Morita (Rokudenashi Blues, Rookies);
Kentarou Yabuki (Black Cat, To Love-Ru);
Nobuhiro Watsuki (Rurouni Kenshin, Embalming);
Shou Aimoto (Hokenshitsu no Shinigami);
Akira Akatsuki (Medaka Box);
Osamu Akimoto (Kochikame);
Daisuke Achihara (Kashikoi Ken Rilienthal);
Shuuichi Asou (Shinseiki Idol Densetsu Kanata Seven Change);
Akira Amano (Katekyo Hitman REBORN!);
Hirohiko Araki (Jojo's Bizarre Adventure);
Yuuichi Itakura (Hand's);
Mikio Itoo;
Riichirou Inagaki (escritor de Eyeshield 21);
Toshiaki Iwashiro (Psyren);
Kyousuke Usuta (Pyuu to Fuku!! Jaguar); e
Koji Ohishi (Inumarudashi);
A participação de Akira Toriyama nesta obra remete-se apenas ao material desenhado por ele. Curiosamente, o próprio Kishimoto contribuiu para o livro com um artwork exclusivo do personagem homônimo Naruto montado em Shenlong e com as vestes típicas de Goku, ambas conhecidíssimas criações de Toriyama.